We have also been involved with the Forestry Committee at James Madison's home "Montpelier", which has a large productive forest used in many different ways. Montpelier's is a fascinating forest management situation, discussed in detail here. We at the Ballyshannon Fund suggested and then funded a Demonstration Forest Trail which was formally opened in April 2010 by Senator John Warner:
Warner Dedicates New Montpelier Trail
(Copyright The Daily Progress, April 18, 2010)
MONTPELIER STATION — Former U.S. Sen. John W. Warner said the forests at James Madison's Montpelier, and a new trail with exhibits showing how forests should be managed, allow the public to experience nature as Madison would have wanted.

Warner was the featured speaker at an event Saturday opening Montpelier's new Demonstration Forest Trail,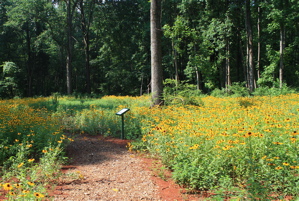 a mile-long loop trail that runs through the area's tended forests where residents can learn about forest management techniques. Those involved with the project said the goal is for any person who walks the trail to learn about sustainable forestry.

Warner, 83, kept his remarks brief, saying those attending should explore the "grandeur" of the estate and its gardens. "The evening is just beautiful," he said.

The National Wildlife Federation named Warner its 2009 Conservationist of the Year for his support of measures aimed at conserving natural resources during his congressional career, which spanned 30 years. On Saturday, Warner recounted some of his experiences with nature — such as how he spent the summer of 1943 working as a firefighter on the border of Montana and Idaho in pristine forest ....

With the opening of the new trail, those associated with Montpelier emphasized that Madison's conservationist nature is likely why there is so much forest on the property.

Michael Quinn, president of the Montpelier Foundation, said that many people already know how beautiful the estate is. But, referring to the new trail, he said, "In many ways this is blazing a new trail for us because it's taking us a little bit out of history."

Residents were also able to take guided tours on the new path, which extends from the James Madison Landmark Forest — a 200-acre expanse that was designated as a national natural landmark by the U.S. Department of Interior in 1987 — and meanders through 30 or 40 acres of Montpelier's tended forests.

Christian Cotz, the manager of student and family programs at Montpelier, said in an interview that landowners are able to have healthy forests that are used and managed, or even have trees that have been cut.

"Sometimes in order to sustain a forest, you have to trim a forest," he said.

Along the trail, visitors can observe forestry management techniques at four stations. Cotz said that of all the forest at Montpelier, only the Landmark Forest remains untouched. "The rest of Montpelier's forest is actively managed," he said.

John Douglas Hall, who portrays the fourth president at Montpelier, said he hoped the new trail and its exhibits would do several things, one of which was to spark new energy for conservation in subsequent generations. "I look forward to seeing you among the trees here for the next several months and years," he said.

[Ed. Note: All while wearing a Madison period costume and in Madison's elocutionary style, as: "...in my epistolary relationship with Mr. Jefferson at Monticello..." He means "letter-writing." Fun stuff, brilliantly done.]

The new trail will be open for self-guided tours from 9 a.m. to 5 p.m. April through October, and from 9 a.m. to 4 p.m. November through March.